Overview of each of the sections in the Worklytics Meeting Effectiveness report.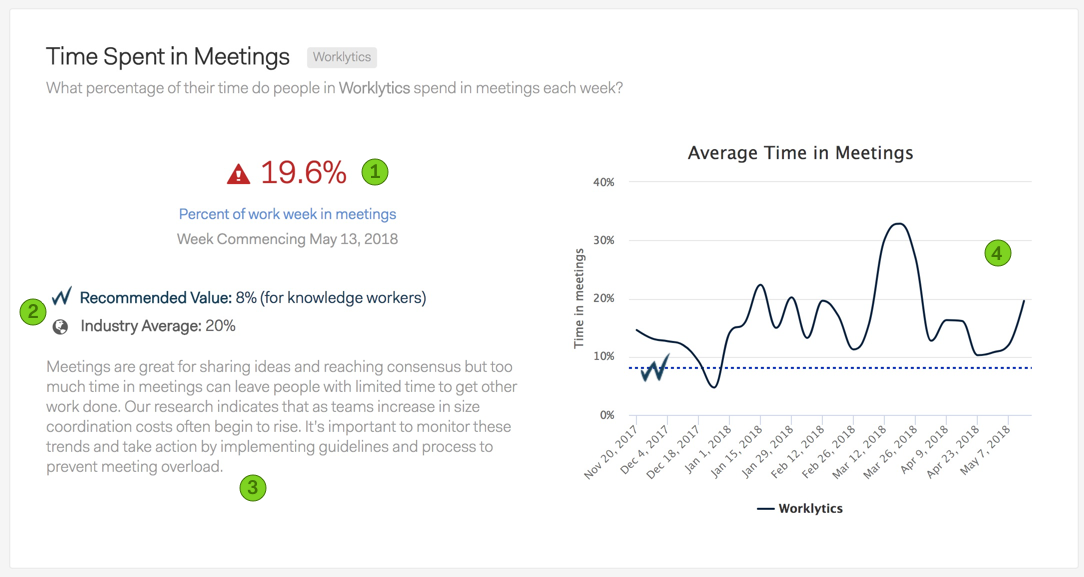 1. Primary Value - this is primary value for any individual report card. It can be aggregated on a weekly basis, by trailing 30-day period or by trailing 4-week period, depending on how your organizations reports are configured. The period for the metric is noted below the metric itself. If the metric is higher than the Recommended Value (see point 2) it appear in red and a warning icon will appears next to it. This indicates that the value is higher than usual. If the metric is below the Recommended Value it appears in blue.
2. Benchmarks - Worklytics provides several benchmarks for comparison. These include:
a. Recommended Value - this is the value Worklytics recommends for most organizations. It is determined both through external and internal research performed by the Worklytics team as well as by collecting input from your organization. This value may vary substantially by role. By default the value for Knowledge Workers is displayed.
b. Industry Average - Worklytics analyzes data on several hundred organizations and uses this to generate benchmarks for comparison. These benchmarks may be tailored for your organization by selecting a group of organization in a specific industry or of a performance bracket.
c. Company Average - Group level reports will contain a company average for comparison. This is the average for the value across your entire organization.
3. Guidelines - Worklytics provides certain tips and guidelines with each metric to guide discussing within your organization or team. This description may be modified for your organization.
4. Chart - This chart shows the weekly trends for the metric in the report card. It is typically configured to display 6 months worth of data. If less data is available it will show the period that is available to Worklytics. When viewing a group level report a trend line for the company average will also be displayed for comparison.